Please help us in our fight to help around 80,000 people suffering with Arthritis to get their lives back on track
Gloucestershire Arthritis Trust (GAT) was established in 1983 by the County's Orthopaedic surgeons to help those whose lives are blighted by the great pain and lack of mobility that is caused by Arthritis. With over 200 different kinds of Arthritis and a national figure of at least 9 million sufferers our work is never ending.
Henson Pigs up for Auction raising funds for Pied Piper and GAT
The public now have an opportunity to purchase a famous Henson painted pig from Gloucestershire's Henson Pig Trail.
Organised by Marketing Gloucester, the Henson Pig Trail was made up of 43 one metre high pigs each painted by an artist and was visited by over 300,000 people, during July and August.
This helped many people explore parts of the County that they may not have previously visited.
The Auction, to raise money for the Pied Piper Appeal and GAT, will take place on Monday September 25th at Highnam Court, Gloucester, GL2 8DP.
Gates open at 6.30pm for time to view the pigs with the auction itself starting at 7.30pm.
There will be a cash bar and food will also be available.
Due to the generosity of AMS Auctions you are able to bid online before the event at http://www.amsauctions.co.uk/auction.cgi?auction=1213
GAT's own painted pig "Orchard Henson" which has been outside the Bow Bells shop in Gloucester is No. 18 in the catalogue.
It will be a great evening and we hope to see you there.
Saving the knees of a generation of local sportsmen and women
There is no sound that a runner or sportsman dreads more than the 'pop' of a torn Anterior Cruciate Ligament (ACL).
When leading knee surgeon Harminder Gosal asked for our help to buy sets of medical equipment, to carry out more Anterior Cruciate Ligament reconstruction surgery at Cheltenham General Hospital, we launched this new appeal.
We are asking for your help to fund the £3,454 needed for a set of specialist tools, as GAT has already committed to fund 60% of the total cost of £8,635.
Medical overview, who's at risk
The knee is the most complex joint in your body and as such is subjected to huge forces during almost all sporting or athletic activities. The Anterior Cruciate Ligament is the most important of 5 structures that resist those forces.
When your ACL is damaged people often hear a distinct 'pop' followed by intense pain. Reconstructing an ACL requires a skilled surgeon using the latest technology and can prevent patients from developing Osteoarthritis in later life.
The most 'at risk' age group for ACL reconstruction are 20 - 40 year olds, who are injured playing sport or simply running.
In Gloucestershire alone around 300 people will need such surgery in the next 12 months.
You can donate online at: www.justgiving.com/knee.
You can donate by mobile: text "Knee90 £10" to 70070 to donate £10.
Go to our Fundraising page for the full story.
GAT launches Portable Ultrasound Scanner Appeal
It's in your hands: will you help 500 people get a faster diagnosis of Rheumatoid Arthritis?
Over five hundred people will visit hospital, in the next 12 months, to have their hands examined to see if they are suffering from Early Inflammatory Arthritis (EIA) which can often lead to Rheumatoid Arthritis.
Sometimes their medical history fits for EIA but the physical signs are not present. Conventional X-rays can't detect these earliest signs, meaning that people sometimes have to wait while the disease continues to develop before being diagnosed and started on treatment. The alternative is to have an Ultrasound scan, but even that can mean a wait of 6 - 8 weeks because of demand and capacity.
You can change that.
Gloucestershire Arthritis Trust (GAT) has launched an appeal, led by Kate Williams - royal historian, author and broadcaster, to buy a Portable Ultrasound Scanner that can immediately detect the very earliest signs of disease, saving up to 500 people a year - mostly women - from the pain and worry of a delayed diagnosis.
To donate online go to: www.justgiving.com/inyourhands. See the full story on the Fundraising page.
GAT funds NHS physio pilot scheme to help people with chronic hip and knee pain
The Gloucestershire Arthritis Trust (GAT) is working with the Gloucestershire Hospitals Physiotherapy service and Leisure@cheltenham to trial a year-long pilot scheme called LEAP (Lower Extremity Activity Programme) for people who have chronic hip and knee pain.
… see the full story on the News page
Waitrose customers give GAT Chairman something to smile about
… see the full story on the News page
Easter Chicks taste good and do good too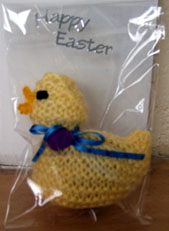 Children suffer with Arthritis - Eleanor's story
Eleanor is a typical 10 year old girl, who loves ballet and gymnastics.
Four months ago she began to complain of a general aching in her knees after any activity.
Gradually the pain became worse, affecting her ability to walk.
Within a week she had stopped all activities and couldn't even go to school … her parents were very concerned.
Click here to find out how GAT assisted in getting Eleanor back on track.
In 2014 the Gloucestershire Arthritis Trust raised £1,345 selling knitted chicks.
It will allow GAT to give extra support to the Children's Clinic so that they can help over 100 children, like Eleanor, who suffer from Arthritis in Gloucestershire.
GAT 30th Anniversary: 1983 - 2013
To mark our 30th Anniversary, we launched a countywide campaign supporting at least 10 local hospitals.
Our aim was to raise enough to give each of them £3,000 so that they can better care for patients suffering with Arthritis.
See the full story on our news page here.
Spinal Surgery

It would take 21,600 cups of tea and slices of cake to raise the £54,000 we spent to provide the surgeons at Gloucester Royal Hospital with the very latest in Spinal Surgery equipment.

Before GAT's donation, only 3-4 spinal operations took place each month, but following GAT's help over 200 operations can now be performed every year.

Luckily, our supporters donated extra money through recycled cards, donations in lieu of presents for major anniversaries and other acts of kindness.
Good Fundraising Code
GAT was among the first charities to adopt the new "Good Fundraising Code".
You will see the bright yellow graphic icon (pictured left) appearing on our website and literature as it is produced.

This code has four principles:

To treat donors and supporters of all kinds with honesty and respect.
To be transparent when asked about cost ratios, costs of fundraising and related issues.
To abide by all legal regulations governing fundraising and aim for best practice.
To have a complaints procedure for supporters to access when they do have a complaint about any fundraising.
Please contact us for more information:
Gloucestershire Arthritis Trust
Parkside,
Cheltenham General Hospital,
Sandford Road,
Cheltenham,
Gloucestershire
GL53 7AN
Email: steve@glosarthritistrust.org Telephone: 01242 221005 Twitter: