Saving the knees of a generation of local sportsmen and women
As Gloucestershire's No.1 Arthritis charity the Gloucestershire Arthritis Trust has, since 1983, helped with four main aspects of Arthritis treatment: Diagnosis, Prevention, Surgery and Recovery.
Thanks to our donated medical equipment across these 4 aspects, 2,500 people receive NHS treatment every year that improves their mobility and helps get their lives back on track.
This year GAT Trustees have already supported: Diagnosis of Rheumatoid Arthritis with a Portable Ultrasound Scanner costing £22,000, Prevention by funding a 12 month physiotherapy pilot costing £7,800 and Recovery by subsidising hydrotherapy classes costing £1,500.
New knee project to be funded
There is no sound that a runner or sportsman dreads more than the 'pop' of a torn Anterior Cruciate Ligament (ACL).
When leading knee surgeon Harminder Gosal FRCS asked for our help to buy sets of medical equipment, to carry out more Anterior Cruciate Ligament reconstruction Surgery, we launched this new appeal.
We are asking for your help to fund the £3,454 needed for a set of specialist tools, as GAT has already committed to fund 60% of the total cost of £8,635.
Medical overview, who's at risk
The knee is the most complex joint in your body and as such is subjected to huge forces during almost all sporting or athletic activities. The Anterior Cruciate Ligament is the most important of 5 structures that resist those forces.
When your ACL is damaged people often hear a distinct 'pop' followed by intense pain. Reconstructing an ACL requires a skilled surgeon using the latest technology and can prevent patients from developing Osteoarthritis in later life.
The most 'at risk' age group for ACL reconstruction are 20 - 40 year olds, who are injured playing sport or simply running. In Gloucestershire alone around 300 people will need such Surgery in the next 12 months.
You can donate online at: www.justgiving.com/knee.
You can donate by mobile: text "Knee90 £10" to 70070 to donate £10.
You can, if you prefer, post a cheque to the GAT office, but please write the word "KNEE" on the back of your cheque.
June 18th Open Gardens at Highnam Court
Sunday, June 18 is Father's Day and a perfect opportunity to enjoy the splendid grounds of Highnam Court for GAT's first Open Gardens event which runs from 11am until 4pm.
Admission is only £5 per adult, children go free.
By supporting Gloucestershire's leading Arthritis charity, you will enable GAT, in turn, to support Surgeons, Rheumatologists and Physiotherapists as they help over 70,000 people suffering with Arthritis.
Refreshments will be available in the Orangery.
There is, as you would expect, good disabled access. However only assistance dogs will be admitted. It is best to approach Highnam Court from the A40 roundabout.
SatNav should be set to GL2 8DP.
GAT launches Portable Ultrasound Scanner Appeal
It's in your hands: will you help 500 people get a faster diagnosis of Rheumatoid Arthritis?
Over five hundred people will visit hospital, in the next 12 months, to have their hands examined to see if they are suffering from Early Inflammatory Arthritis (EIA) which can often lead to Rheumatoid Arthritis.
Sometimes their medical history fits for EIA but the physical signs are not present. Conventional X-rays can't detect these earliest signs, meaning that people sometimes have to wait while the disease continues to develop before being diagnosed and started on treatment. The alternative is to have an Ultrasound scan, but even that can mean a wait of 6 - 8 weeks because of demand and capacity.
You can change that.
Gloucestershire Arthritis Trust (GAT) has launched an appeal, led by Kate Williams - royal historian, author and broadcaster, to buy a Portable Ultrasound Scanner that can immediately detect the very earliest signs of disease, saving up to 500 people a year - mostly women - from the pain and worry of a delayed diagnosis.
Kate Williams explained that, "as a writer I can really appreciate how important it is to have such an early diagnosis to keep your hands working properly."
The Portable Ultrasound Scanner can be used by specialists in clinics at both Gloucestershire Royal and Cheltenham General hospitals, as well as at smaller health clinics across the County.
Dr Elaine Smith, Rheumatologist, said "the new scanner will provide a more convenient and much faster one-stop service for patients, in an outpatient setting. Such an early diagnosis and treatment can prevent the development of Arthritis and complications. It will also take some pressure off our busy imaging department."
GAT has already pledged the first £10,000 of the £26,905 cost of the scanner, but they need your help to raise the rest. Your donation could make a difference to the future health of 500 people - it's in your hands!
Post a cheque to: GAT, Parkside, Cheltenham General Hospital, Sandford Road, Cheltenham, Glos GL53 7AN. Please make your cheque out to GAT and write the word "scanner" on the back.
To donate online go to: www.justgiving.com/inyourhands.
To donate by text: text SCAN88 £10 to 70070 to donate £10.
Fundraising ideas to help GAT help others
Donate someone else's money or even someone else's stamps
Birthday coming up? Do you really need more stuff - why not ask family and friends to give you donations to GAT instead?
Major Wedding Anniversary coming up soon? Does it end in either a five or a nought - save your friends the anxiety of getting you 'the right thing' by asking them to make a donation to GAT instead. Setting up an online donations page with either of the two biggest organisations www.justgiving.com or www.virginmoneygiving.com is easy and they have all our details too.
What about the stamps from your birthday or Anniversary cards? They have a value too. We have teamed up with Paul Roebuck at Fundraising Stamps - an organisation that buys recycled stamps in bulk for £12 per kilo. Leave at least a 1cm gap around each stamp and send them to GAT.
Coffee Morning or Afternoon Tea
Getting neighbours round for a coffee or a cuppa can be a great way to raise money for charity, especially when you add in some home-made cake. Why not ask Liz in the GAT office to bring along some of our greetings cards and other gifts to boost your fundraising?
Up for a challenge
You may not be mobile enough to run a marathon or cycle from one end of the country to another, but maybe you have a relative who is. We have been given donations from a cyclist whose Mum suffers from Osteoarthritis as well as from a daughter who marked her 30th birthday by Skydiving to raise money for her Dad who has rheumatoid arthritis.
Legacies boost grant
Last year we made grants of £34,209 available for specialist equipment thanks to over £9,000 of legacies. GAT needs more Legacy donations so we can provide the ever-more expensive medical equipment needed by surgeons. This will enable us to help the next generation of Arthritis sufferers.
Our biggest legacy last year came from Eric and Cynthia Gautrey based on their "regard for our cause & the great work that we do," according to their son Colin. To find out more about leaving GAT a legacy click here.
Unwanted car - go to "Give a Car" and help GAT
If you, or anyone you know, are thinking of scrapping a car, why not donate it to help GAT? On average it could raise £100. We have teamed up with the specialist not-for-profit company "Give a Car" who will collect, for free, any vehicle and then make a donation to your nominated charity. You can chose to donate all the money, or ask to keep half yourself.
To read more go to their website http://giveacar.co.uk and see just how they have already helped hundreds of charities. When prompted to select your chosen charity you must use our full name Gloucestershire Arthritis Trust.
Easter Chicks taste good and do good too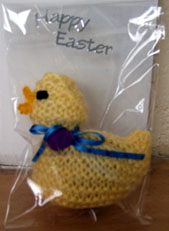 Every knitted Easter chick, filled with a Cadbury crème egg, which we can sell helps a child suffering with Arthritis to get better, quicker.
We raised £1,345 so we can get lots of special equipment for the Physiotherapists at the Gloucestershire Children's Clinic.
Over 120 local children currently have what is called Juvenile Arthritis. Often there is no known cause. But, thanks to a combination of injections and exercises, using our equipment, most children make a full recovery in three months.
Chicks were on sale at both Cheltenham General Hospital's front desk and fracture clinic, as well as Gloucestershire Royal's physiotherapy reception desk. In Cirencester they were sold by Octavia's Bookshop in Black Jack Street.
If you'd like to support us, or would like to know more about our work read Eleanor's case study.
GAT Grants in 2013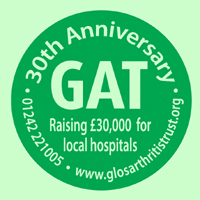 To mark GAT's 30th Annivesary we planned to donate £30,000 to local hospitals across Gloucestershire.
Thanks to generous supporters and volunteers we have agreed grants of £33,507.
Cheltenham General: £2,985
Gloucestershire Royal: £14,163
Tetbury: £3,000
Tewkesbury: £2,550
Thornbury: £263
Children's Clinic: £3,175
Cirencester: £2,950
Stroud: £1,907
North Cotswolds: £2,514
GAT values Volunteers
GAT is supported by a small army of volunteers who used their time, energy, organisational, cooking and creative skills to help raise £27,828 in 2013.
You can donate online at: www.justgiving.com/gotarthritis
Cards - Recycled, hand-made and new: £11,243
Sponsored events - Ride across Britain, diets etc: £6,971
Sales - Coffee mornings, stalls and village events: £3,404
Events - Literary lunch, Colesbourne snowdrop teas: £2,435
Joint Supporters Club - planned giving: £2,350
Knitted Easter Chicks: £1,425
If you're interested in raising money for the Gloucestershire Arthritis Trust by organising a dinner with friends Click here to visit the Dinner4Good website to see how you can do this.