GAT funds NHS physio pilot scheme to help people with chronic hip and knee pain
The Gloucestershire Arthritis Trust (GAT) is working with the Gloucestershire Hospitals Physiotherapy service and Leisure@cheltenham to trial a year-long pilot scheme called LEAP (Lower Extremity Activity Programme) for people who have chronic hip and knee pain.
LEAP is a six-week, rolling programme, with two new people joining every week. This way, new joiners get one-to-one supervision at the very start which leads to participants being more confident more quickly. GAT has provided a £7,800 grant for LEAP which could become a standard NHS offering in 2015, once all the feedback and analysis is completed. So far 27 people have started the programme aged between 44 and 81 years old. Of the 17 that have completed it 11 have gone on to take up gym membership.
Beginning in April, 2014, each six week course is run by Physiotherapist Chris Moule, who is based at Cheltenham General Hospital and a fitness instructor from Leisure@cheltenham. The sessions include supervised exercise and education to cover the benefits of exercise, weight management, effective use of pain relief medication and managing flare ups of pain. Once the programme finishes, a concession gym membership is available to attendees to support them in continuing their exercise.
Steve Morton, GAT Secretary says, "Our previous grants for equipment and treatment are helping around 2,000 people every year to get their mobility and often their lives back on track. By funding innovative NHS pilots such as LEAP our charity will enable even more people to live more normal lives."
Chris Moule, NHS Physiotherapist says "Research, including the NICE Guideline on Osteoarthritis, has shown that an approach combining exercise and learning skills to help cope with symptoms provides long term benefit and doing this in a group setting has been shown to enhance the benefits further. This is why we are trialling this scheme, funded by GAT, for people across Gloucestershire".
Feedback from attendees has so far been very positive, including:
"Thanks to GAT, it was nice to get guidance and support to exercise safely and manage pain. I found the NHS talks very interesting and it was good to be able to get answers to any questions we had. I found the programme very motivating".
"I found the programme most helpful in two ways: Progressing exercise in the gym, which I hope to continue and providing information regarding other areas of health for example pain, flare-ups, supplements etcetera which I have not been given before. A very helpful programme - thank you GAT and the NHS".
Waitrose customers raise £363 for GAT
When Waitrose opened their new store in Chipping Sodbury a quick thinking supporter emailed the store manager to ask if GAT could be one of their Charities of the Month.
"Yes" came the reply, "How about next month?"
The system uses green tokens which are given to each shopper who chooses which of three charities they want to support.
As the store is in South Gloucestershire we werenít sure how strongly customers would feel about GAT, but in the end 36.3% of customers chose to support GAT.
This was converted into a cheque for £363, which was presented by Kate Long to GATís Chairman Sally Eyre.
Doing good locally helps the Gloucestershire Arthritis Trust donate £35,000 to local hospitals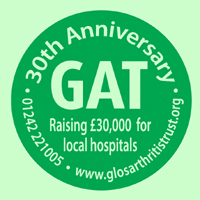 Marking our 30th Anniversary gave GAT the perfect opportunity to remind supporters of the many ways we had benefitted local people. GAT's target was to raise £30,000, to support up to 10 hospitals, but the charity ended up giving grants of over £35,000. This has taken our 30-year fundraising total to £2.4 million.
Announcing GAT's financial results at our AGM in March 2014, volunteer Treasurer Dylan Jenkins said "Increased donations have meant we could help even more people. This shows just how much both Gloucestershire and South Gloucestershire residents want to help a locally based charity that in turn helps the 70,000 local people who suffer with Arthritis."
"Hospital physiotherapy departments right across the region will benefit from GAT's newest grants, such as Tetbury, Cirencester, North Cotswolds, George Moore Community Clinic, Vale Community Hospital, Thornbury, Stroud, Tewkesbury, the Children's Clinic at Quedgeley as well as both the Cheltenham and Gloucester main hospitals."
"The University of Bristol has also been able to complete a Spinal Orthopaedic research study, thanks to GAT, which was published in four national and international medical journals - improving the treatment of what is known as "dowagers hump."
"We are proud to have provided medical equipment that now enables over 2,000 people every year to have an operation that will help improve their mobility," explained Jenkins "it is clear that if you've got Arthritis, GAT is your charity."
People of all ages can suffer from Arthritis, it is no longer just an ageing problem. GAT Trustees have given Gloucestershire Royal Hospital a grant of over £10,000, making it possible for surgeons to treat younger people in the early stages of Arthritis in their hips. Children too have benefitted from GAT funding over £3,000 of child-sized physiotherapy equipment.
To support GAT's work, make a donation at: http://www.justgiving.com/gotarthritis
Children suffer with Arthritis - Eleanor's story
Eleanor is a typical 10 year old girl, who loves ballet and gymnastics. She also enjoys family activities like swimming and sailing. Four months ago she began to complain of a general aching in her knees after any activity. Gradually the pain became worse, affecting her ability to walk. Within a week she had stopped all activities and couldn't even go to school Ö her parents were very concerned.
Eleanor was referred by her GP to the Children's Clinic at Quedgeley where she was assessed by both a paediatrician and a paediatric physiotherapist. They identified she had a condition called Oligoarticular Juvenile Arthritis - the most common kind of childhood arthritis of which there is no known cause.
She was treated with steroid injections and physiotherapy - using equipment supplied by GAT. She and her family understood that if they followed this treatment and carried out the exercises she would make a full recovery. Eleanor worked with the physiotherapists to strengthen her muscles and increase the movement in her knee joints Ö getting her life back on track in three months.
Donating to GAT can be made online at: http://www.justgiving.com/gotarthritis
Nikki's 990 mile Ride across Britain raises over £6,500 for Gloucestershire Arthritis Trust
Nikki Embery, from Dursley, cycled 990 miles, from John O'Groats to Lands End, in just nine days and raised £6,586.25p for the Gloucestershire Arthritis Trust (GAT). Although an experienced Cross Country runner, 51 year old Nikki, who works at Amberley Publishing in Stroud, only took up cycling a few years ago following an injury. "This was by far the toughest thing I have ever done. When I set out from John O'Groats I was not totally sure that I could complete the challenge," said Nikki. "There were moments along the way when I questioned my sanity in taking on the ride. When my body was hurting and telling me to stop, what kept me going was the thought that, unlike the 70,000 Arthritis sufferers in Gloucestershire, when I did stop riding - after covering around 110 miles each day - the pain would go away", explained Nikki.
Steve Morton, Secretary of the Cheltenham based charity, says that "Nikki has been GAT's most successful individual fundraiser so far in this our 30th Anniversary year. The money she has raised will be used to buy much-needed physiotherapy equipment for both Stroud and Thornbury hospitals as well as for the Children's Clinic at Quedgeley."

Thanks to Nikki, the charity's target of raising £30,000 this year for grants to hospitals across the County has now reached £27,628.

GAT Secretary Steve Morton (left) congratulates Nikki Embery on completing her 990 mile "Ride across Britain" which raised over £6,500 for the Arthritis charity.
Gloucestershire Arthritis Trust 30th Anniversary
GAT Grants in 2013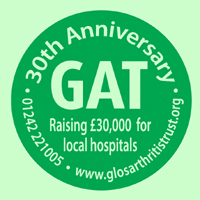 To mark GAT's 30th Annivesary we planned to donate £30,000 to local hospitals across Gloucestershire.
Thanks to generous supporters and volunteers we have agreed grants of £33,507.
Cheltenham General: £2,985
Gloucestershire Royal: £14,163
Tetbury: £3,000
Tewkesbury: £2,550
Thornbury: £263
Children's Clinic: £3,175
Cirencester: £2,950
Stroud: £1,907
North Cotswolds: £2,514
Previous Gloucestershire Arthritis Trust Recent News
September 2011
On Sunday September 4th, GAT returned for the annual Westbury Summer Show. Although it rained on and off, the show was a great success and GAT will be back there next year. Dot Roberts, her husband Elwyn, Liz White and Doug Smith manned the stand selling cards and gifts - they managed to raise £200.10p.
On Wednesday, Sept 13th, we were at Gloucester Royal Hospital collecting a cheque for £500 from George Walker who had raised the money during his time in office as the Master of the Zetland Masonic Lodge. We will allocate the funds to support their Hydrotherapy pool.
August 2011
On August 4th we were invited to the Sir Thomas Rich Bowls Club to receive a cheque for £910 from the last ever Gloucester Bowls Tournament Gala Day. The tournament was established in 1942 and ran over 5 days across various locations. According to Dave Hopkins their constitution stated that should they disband all the remaining funds should go to charity. They divided the funds between GAT and the Macmillan Cancer Support charity.
Sophie Thompson literally "fell from the heavens" doing a sponsored Parachute jump to raise just over £703 for GAT, marking her 30th birthday.
July 2011
On July 21st Mollie Wise and her hard-working team of helpers set another record for a GAT Coffee Morning, by raising a grand total of £1,448.00. Nearly 100 people arrived at Mollie_s home in Bourton-on-the-Water to be tempted by the cakes, gifts, garden produce, cards and a raffle. The weather was thankfully kind to us. GAT_s stand was manned by Caroline Morton and it contributed £220.00 towards Mollie_s total.
June 2011
We were pleased to receive news that David Lawrence, a previous Secretary to GAT, had been awarded Citizen of the Year 2011 for Fairford. The citation reads "David quietly carries out many roles to help in the community - Walking for Health, Volunteer Hospital Driver, Church Steward, Thames Path Warden as well as Flying Scholarships for the Disabled."
After a long hot sunny Spring, we knew it wouldn_t be long before an event was hit by rain. Sure enough the Sacred Hearts Summer Fair on June 11th in Charlton Kings was just that event. Wendy Davies, Pat Hart, Liz White and Julie Wand were all ready for the crowds when the heavens opened and everyone ran for cover - but we managed to raise £118.60p.
April / May 2011
The combination of a late Easter, the Royal Wedding and the early May Bank Holiday meant we were busy at a number of Cotswold village Teas and Flower festivals. Events in the villages of Bibury and nearby Barnsley helped GAT raise £418.86p.
Please contact us for more information:
Gloucestershire Arthritis Trust
Parkside,
Cheltenham General Hospital,
Sandford Road,
Cheltenham,
Gloucestershire
GL53 7AN
Email: steve@glosarthritistrust.org Telephone: 01242 221005